CENA: AN ANCIENT ROMAN FEAST
5th December 2017 @ 6:30 pm

-

9:00 pm
Event Navigation
Ancient Dinners is proud to present an "Ancient Roman Cena"  at Aperto Restaurant. Join Award-Winning Author, Chef, Food Historian, and Mediterranean Diet Expert Amy Riolo along with Award-Winning Chef/Restaurateur and Owner of Aperto and Al Tiramisu, Luigi Diotaiuti as they recreate an ancient Roman feast that is perfectly suited to today's palates and upholds the tenants of the Mediterranean Diet. During the meal, chef Amy will explain the history of each dish along with its' nutritional benefits. She will also reveal how the ancient Roman festival of Saturnia shaped many of our modern Christmas culinary traditions, and how some Jewish and Muslim communities in the Mediterranean region enjoy these foods during their holy days as well. Chef Luigi (also a Certified Italian Sommelier) will share the Roman histories of his wine pairings and reveal some ancient dining practices which he still upholds in his restaurants today.
| | | | |
| --- | --- | --- | --- |
| Appetizers: | Handmade Spelt Pizza with Ricotta, Sesame, and Figs/Deviled Eggs with Pine Nuts and Garum Sauce | Main: | Numidian Chicken with Roasted Roman-Style Vegetables |
| First: | Composed Salad with Pompeian Bread and Mortei (Cheese Dip) | Dessert Trio: | Wine-Infused Cracked Wheat Pudding with Raisins and Nuts/Cleopatra's Kisses/ Anise Biscotti |
| Wine: | Choice of a Glass of Greco di Tufo or Aglianico  | | |
ATTIRE: Semi-formal, or ancient costumes, if inspired. Food will be served in a regular restaurant style.
About Amy Riolo and Luigi Diotaiuti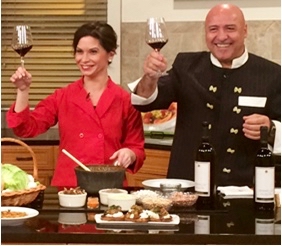 Named "the next big thing" in the culinary world by Elle Spain, award-winning duo Amy Riolo and Luigi Diotaiuti are known for telling the whole story behind food, reclaiming culinary traditions on the brink of extinction, and translating restaurant recipes for home cooks. Respected for their lively, informed, and passionate style, Amy and Luigi bonded over their shared, insatiable appetite for cuisine, culture, and travel.
In 2013, Amy and Luigi released The Al Tiramisu Restaurant Cookbook: An Elevated Approach to Authentic Italian Cuisine based on Luigi's restaurant. They also premiered a documentary film entitled The Beauty of Basilicata Dinner at the James Beard Foundation and have created numerous presentations and demonstrations in order to preserve treasured Mediterranean traditions.  The duo also led the Two Chefs Culinary Cruise from Athens to Istanbul & The Greek Isles.
As respected culinary diplomats, Amy and Luigi have created and participated in events for The U.S. Department of State's Diplomatic Culinary Partnership and Les Dames d'Escoffier's Global Culinary Initiative, and also enjoy judging culinary competitions, such as Cultural Tourism DC's Embassy Chef Challenge. Amy and Luigi continue to donate their time and skills to support initiatives such as the St. Jude Research Hospital.
Our Speakers, Your Source of Inspiration.
Chef Luigi Diotaiuti.
"Contemporary cuisine refers to the integration of time honored culinary traditions in today's kitchens in order to preserve them for future generations." — Chef Luigi Diotaiuti.
Award winning Chef/Restaurateur/Owner of Al Tiramisu and Aperto, Luigi Diotaiuti is a world -renowned authority on Italian cooking and living. A celebrity favorite for decades, the certified Italian Sommelier and television personality was born in a farm near Lagonegro, in the mountains of the Southern Italian province of Basilicata. He is a member of the American Chefs Corps network through the U.S. Department of State. He believes that food gives us the opportunity to respect past traditions and celebrate the present, while looking forward to the future.
His menus combine authentic Italian fare with elevated touches. It is for this reason that he was awarded the coveted "Insegna del Ristorante Italiano," the seal of approval by the President of Italy and Slow Food DC's Snail of Approval award. He released his first cookbook, The Al Tiramisu Restaurant Cookbook: An Elevated Approach to Authentic Italian Cuisine in December 2013. In 2017, he was named "Ambassador of Basilicata's Cuisine in the World" by The Federation of Italian Cooks.
Amy Riolo
As an award – winning, best-selling, author, chef, television personality, and educator, Amy Riolo is one of the world's foremost authorities on culinary culture. She is known for sharing history, culture, and nutrition through global cuisine as well as simplifying recipes for the home cook. A graduate of Cornell University, Amy is considered a culinary thought leader who enjoys changing the way we think about food and the people who create it.
Amy is a food historian, culinary anthropologist and Mediterranean Diet advocate who makes frequent appearances on numerous television and radio programs both in the United States and abroad.